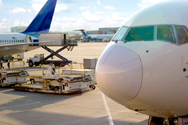 In today's market of Air Freight, Its hardly enough to cater to transportation needs from A to B, Being your chosen logistic solutions provider we go to those extra miles to render services right from A to Z.
We focus on the reliability of the services we provide, making double sure that all documents are in order for Imports or Exports prior to the shipment arrival or departure on either side. We continue to monitor, study and ease the formalities for the benefit of our customers.
Our relationship with most of the major Airlines and Charter operators gives us the upper edge of guaranteed space and pricing.
We handle deliveries no matter how small a shipment to complete loads.
We arrange and handle all formalities, unloading and loading for arriving Cargo Charters. When the shipment arrives, the consignee is notified and, at their request, we can clear the shipment through Customs and deliver the goods or alternatively we can handover to the consignees clearing agents.
Whether you are shipping cargo from one side of the country to the other, across the borders or from one end of the world to the other. Exrol can design airfreight solutions that meets or exceeds the customers expectations.
Regular weekly shipments

Consolidations

Multi-Modal Transportation

Perishable Handling

Special Projects

Pre-allocated space with a choice of Airlines

Tracking of shipment to its final destination

Liaison between importers and exporters

Customs Warehousing

Customs Clearance & Forwarding

Imports & Exports

Breakbulk